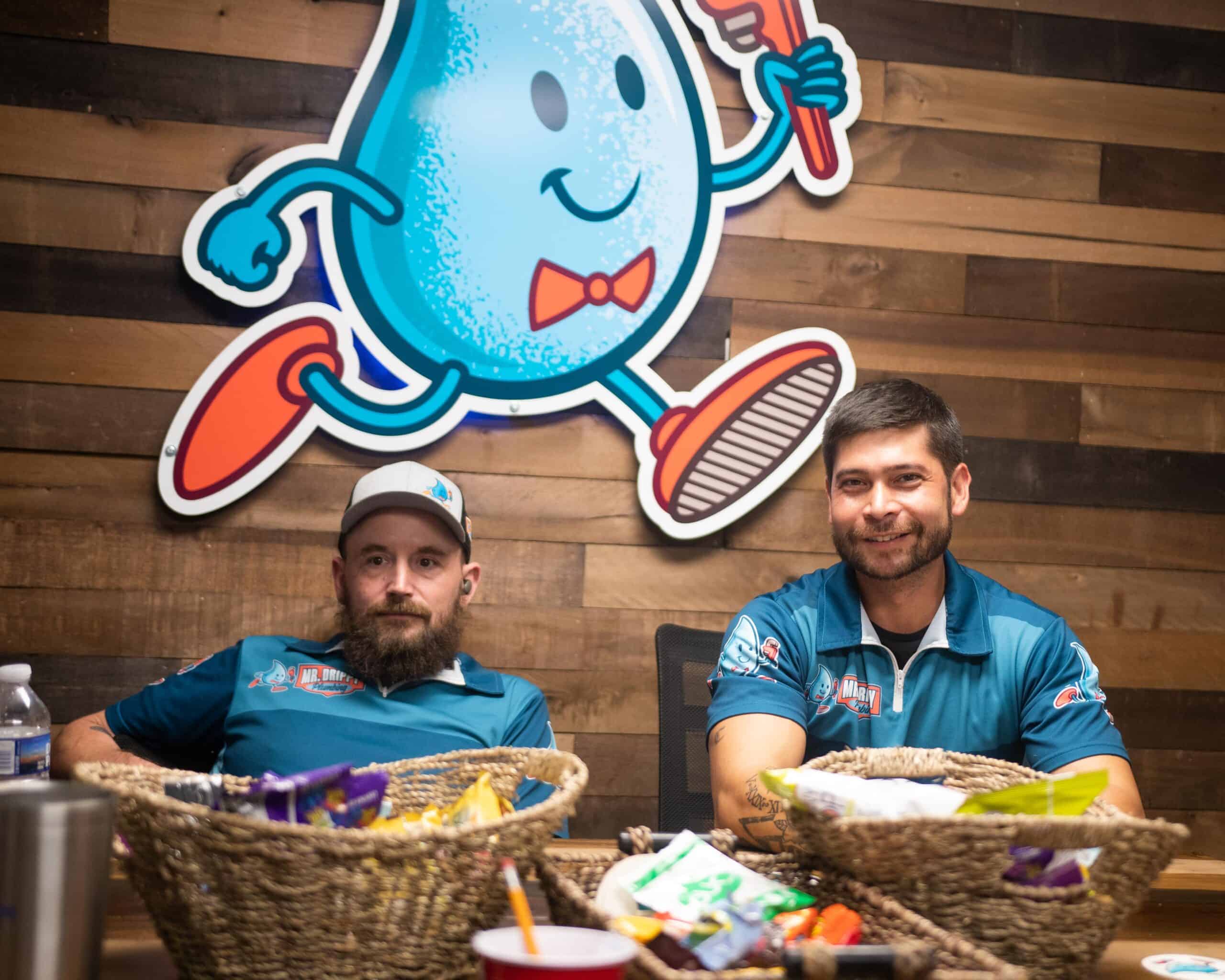 If you are experiencing a clog, Mr. Drippy Plumbing will find out and fix it promptly. With decades of experience, our techs know how to quickly diagnose. So, they can fix all your drain issues.
That is why in many cases, the homeowner or renter is the root cause of a clogged drain. There are things we can put down the drain while other things we can't.
Moreover, creating simple household rules can dramatically minimize clogs in your home.
Collect and throw hair away in the trash after a shower
Throw away plants and dirt
Collect, seal, and throw away grease
Throw all toiletries in the trash can
Over 50 Years of Experience
Our Plumbing Services
We are one of the best plumbing companies in Birmingham, Alabama and have over 50 years of combined experience by our side.
Heavy Rain and Storms – it is common to experience a clog throughout heavy rainfall in Birmingham. However, most drains aren't designed to take the full impact of the overflow of rainwater in gutters and downpipes. Therefore, it can cause a blockage that needs to be cleaned out ASAP.
Broken Pipes – although water pipes can break for many reasons, the two most common are tree roots growing around the pipes as well as general wear and tear. So, as soon as the pipe experiences a fracture, it can be susceptible to blockage. However, this is tricky because it can be difficult to diagnose the issue unless you used a sewer camera to visibly see the broken pipe.
Poor Water Flow – the first way to detect this is when you turn on your water and notice it's trickling out rather than flowing normally. This is a sign of low water pressure or a flow issue. So, what causes the blockage? As water flows through the pipes it can carry dissolved minerals that deposit on metal surfaces. But the most common causes are showerheads or parts of the taps dissolving and creating a clog.
Bad Pipe Installation – improper pipe installation can definitely result in costly drain blockages. Pipe installation can be expensive and you may consider using a handyman or DIY method to save money on renovations. Without a licensed plumber for proper pipe installation, you run the risk of incorrect water flow, fractured pipes, and costly repairs.
Most Popular Drain Cleaning Services
Sewer Camera Inspection – our sewer camera inspection takes the guesswork out of uncovering clog and drain issues. The video inspection allows us to accurately diagnose as well as fix the problem in no time
Sewer Line Repair – if you've ever flushed your toilet and noticed water coming up in the shower or tub drain you probably have a sewer line clog. This clog will cause the water to flow back up the pipes and come out at the lowest point which is usually your shower drain.
Water Line Repair – corrosion can cause your pipes to deteriorate or even break. This can create blockages and restrict your water flow.
So, if you want drain clearing in Birmingham or are looking for Birmingham drainage solutions, We can be a perfect fit!
100% Trusted
Plumbing FAQ's
This section is designed to help answer some of our most frequently asked questions. Still, have a question? Always feel free to give us a call and we'd be happy to get you an answer.
There should be a clean water supply and a drainage system, and all appliances that are connected to the water system should work efficiently. When your drain gets blocked, remain calm. If you cannot see the item or retrieve it yourself, call Mr. Drippy Plumbing. We get there fast and retrieve the object quickly.
A clogged drain can prove to be a stubborn hassle. This usually occurs due to hair buildup, and oil residue from soaps and shampoos. Having your drains cleaned annually can help eliminate expensive backups. Knowing why these things happen will help decide when it is ideal to call a plumber.
Clogged drain creates a hassle in daily activities but also results in an unhygienic environment which can lead to severe disease. A strainer should be placed on bathtub and shower drains to catch hair and other objects before they go down your drain. Also, don't rinse fat or cooking oil down the kitchen sink because it will solidify as they cool, trapping loose particles and allowing them to build up until you have a blockage.
Your drain requires professional cleaning. This prevents buildup and damage from occurring, which may require excavation or replacement if left untreated. We recommend you make drain cleaning a routine maintenance job for your home. When you contact us, we will give you a more detailed schedule based on your needs.
It depends on the severity of the problem. You might attempt cleaning your drain with chemical drain cleaners which typically do not work and can do severe damage to your waste breakdown process if you have a septic system. If multiple sinks or drains are clogged/backed up in your home, then you need skilled professional assistance.